As an incurably romantic I am filled with awe, respect and wonder every time I witness a true love story. This was the case with Kelly and Stan, who travelled all the way from the USA to come to Greece and get married in a place of breathtaking natural beauty wrapped in the mystery of captivating ancient myths, the volcanic island of Santorini. But this was no ordinary wedding. No! It was an elopement. There is something so sweet and idyllic about elopements and, as I had already shot Cydney and Bilal's barefoot elopement in Mykonos, I knew exactly what to expect and felt absolutely thrilled!
An elopement is the most intimate and romantic way for two people in love to pledge their vows and start their common life together. There are no families present, no guests, no crazy noisy parties, no boisterous group events, no distractions. And the lucky photographer can focus exclusively on the happy couple, which turns the photoshoot into a relaxed and deeply satisfying experience.
The bride's preparation took place in Dana Villas, a fantastic hotel perched on the cliff of Firostefani, the highest point in Fira, Santorini, with spectacular views of the caldera and the azure infinity of the Aegean. It was a very touching moment when Kelly read a letter written by her mum shortly before the elopement; and Stan was equally moved when he got a gift and a letter from his bride-to-be.
The bride was dazzling in her wonderful lace wedding dress and her blue bridal shoes –yes, they were blue, a pleasant surprise for the bridegroom, who had actually expressed the wish to see Kelly wear blue shoes on their wedding day. Now his wish was granted! Kelly's bouquet was a dream floral composition of snow-white violets and roses, anemones and tulips.
Maria Sila from Tie the Knot in Santorini-Weddings & Events made sure everything was perfectly planned, from the amazing white and blue flower decoration to the very original wedding cake with miniature representations of the newlyweds with their dogs, Briar and Gus.
The wedding was marked by an additional special ceremony called "unity in glass", in which the couple combine colored crystals that will later make up a little work of art from blown glass as a symbol of the timelessness of their love. Isn't that awesome?
But there was more. After driving to the Faros (lighthouse) in a cute antique Cabrio Beetle to shoot pictures, we ended up in Santo Wines to taste Vinsanto, the naturally sweet "lava wine" of Santorini. The wine museum chosen by Kelly and Stan for the engagement was ideal for more shooting. And lastly, we went to Oia, where the stunningly beautiful views provided all the colours and light needed for the perfect photographic epilogue to an unforgettable elopement on a magic island…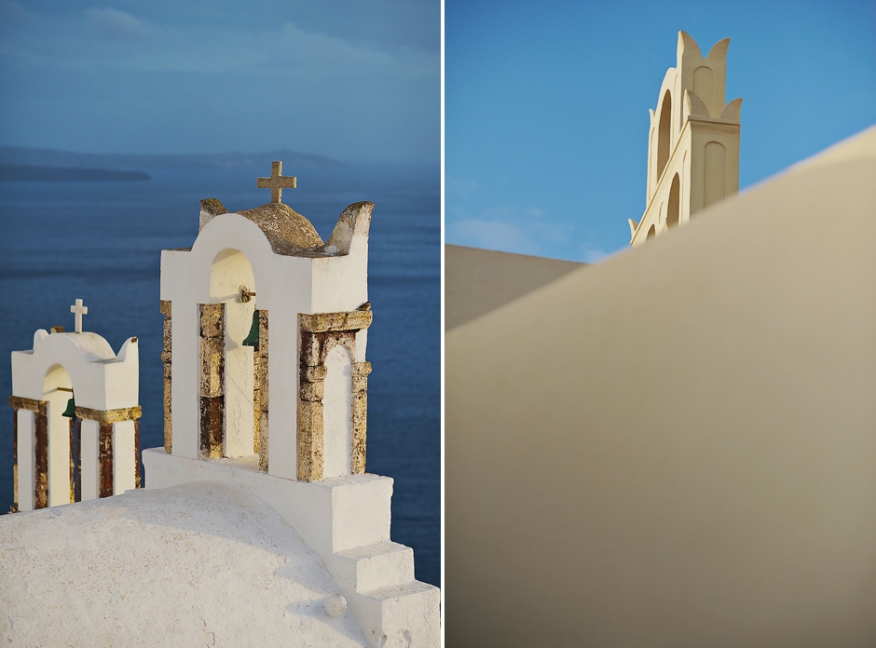 Photography by Thanasis Kaiafas