Working as a photographer in Mediterranean area, snow on a wedding is a real rarity, so you can only imagine the excitement we felt when we saw white snowflakes slowly descending upon the town on the morning of the wedding.
Our couple lives on a hill, and the amount of snow they got was making them borderline inaccessible by car. Oh, the excitement!
As we wrapped up their preparations, we went on a short session around the frozen forest and later through the famous Zagreb Advent in the Upper town. We couldn't pass up the bokehlicious Christmas lights!
The sugar at the end was the antique bowling alley turned reception venue with stunning decorations, flowers and glowing warm lights all around. It was impossible to pick what to shoot first as the couple arrived for the ceremony and dinner reception.
The atmosphere was terrific with two acoustic bands taking turns playing, and winter delicacies abound.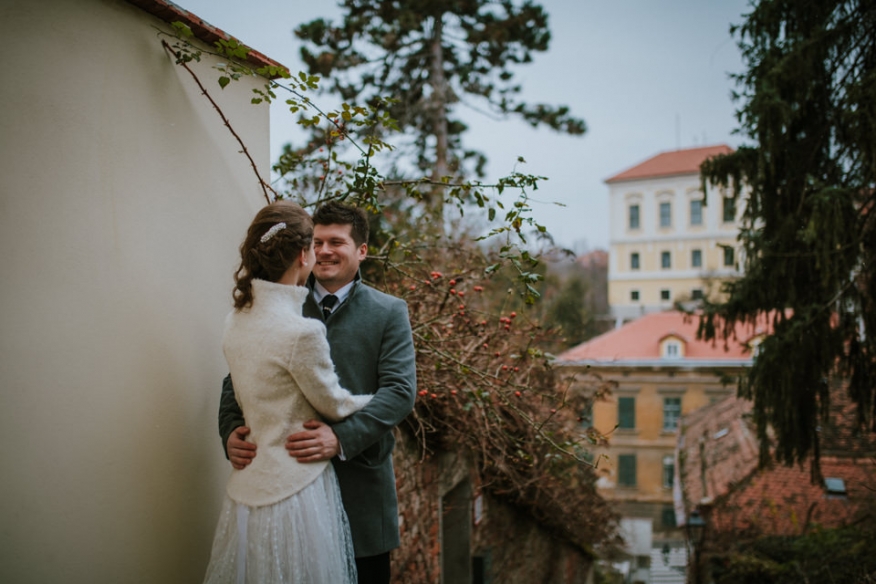 Photo & video: Matija + Marina Photography & Cinematography
Venue: Kuglana
Food: Catering Lisak
Bands: NosTress tRio & Guitar Weddings