I absolutely LOVE being a New England Wedding Photographer!  For starters,  we get to enjoy the beauty that all four seasons provide.   While, admittedly so, I'm more of a summer girl- I do admit that each season has its own beautiful characteristics.    And here I have a fall wedding that I photographed at the GrandView Estates in Jaffrey NH.
The GrandView Estates is a premier New England Wedding Venue, where I get to photograph frequently.   It offers a wonderfully quaint onsite Bed & Breakfast, along with a pavilion for weddings to happen even during poor weather.   Additionally it has the most breathtaking view of Mt.  Monadnock.  (Which just so happens to be the world's 2nd most climbed mountain.   Mt. Fuji is the first!) 
Fall Weddings in NH are beautiful for so many reasons.   As you may know,  New England is known for its colorful foliage.  And the weather tends to be pretty mild as well- making it the perfect time of year to have a wedding.   This couple though didn't have the traditional fall colors.  They infused nice, light and airy pastels into their theme which balanced perfectly with the otherwise known 'burnt-like' colors of autumn.
This wedding was purely DIY.  They did everything themselves.  (Aside from the cooking! ha)   All the decor, even the flowers were all done by the loved ones of the couple.   The Arbor, the signage and the tablescapes were all hand-crafted by the couple.    So I encourage you to take a peek!   Be sure to check out the full blog post:  Marielle + Tim's Fall Wedding At the Grandview Estates.
I may be a New England Wedding Photographer,  but I do travel all over to photograph weddings.    Please be sure to get in touch if you are interested in having beautiful Light and Airy photographs telling your story!!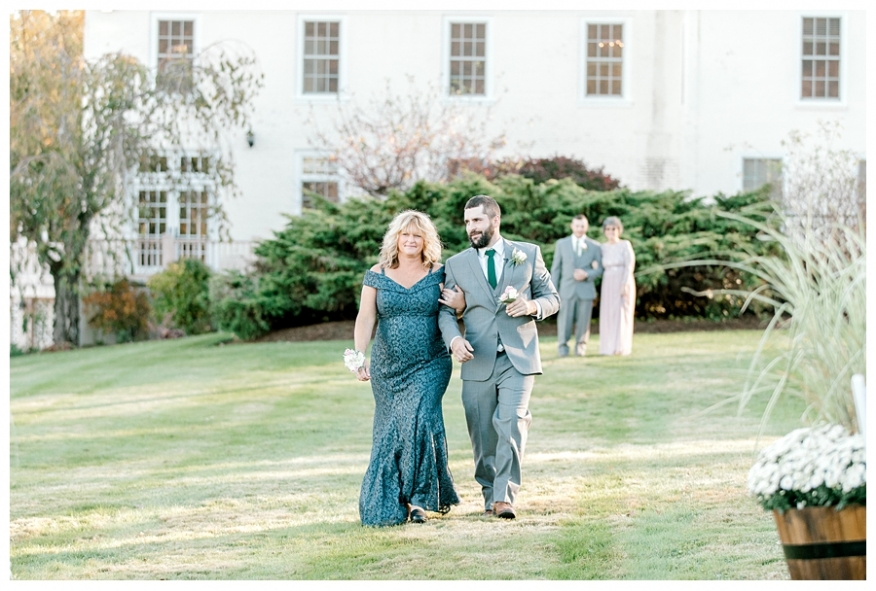 See another post of mine:  Alyson's Orchard Wedding.