We are happy to share that a group of Best of Wedding Photography members are speaking at the upcoming WPPI.
WPPI (Wedding and Portrait Photographers International) is holding their annual conference in Las Vegas from March 7-14.
If you are attending WPPI, we highly recommend attending these presentations to learn and support your fellow BOWP members.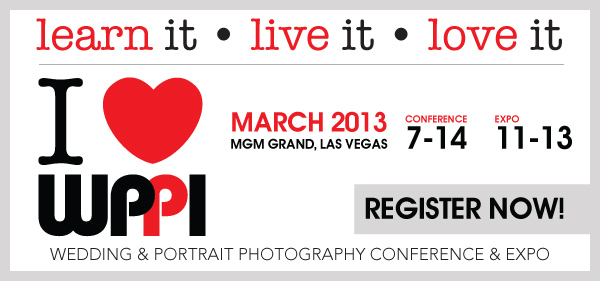 Here are some presentation summaries from some of our BOWP speakers:
Nik Pekridis
Be Yourself, Create Your Own Style – Sunday, March 10th, 3-5 pm
"Through my 2 hour keynote I will go back to the "old days" of film and start to explain about the total wedding experience which we should treat our clients. Also a way to understand everyone what kind of images can get and with simple words to discover his or her personality. So it's about motivation and inspiration." – View Nik's profile page
Melissa Jill
Efficient and Profitable Album Sales – Tuesday, March 12th – 6:30-8pm
"Are you frustrated and bogged down by your album production & sales process? Do you wonder if it's even worth it to sell albums because of how much work they are in comparison to the margin of profit they provide? Are you wanting to start offering albums but are completely overwhelmed with the options? Melissa Jill has worked hard to systematize her album workflow and will be sharing from her 9 years of experience on all things albums. From pre-designing, to up-selling, to client communication and wading through all the options, you will walk away with a step-by-step process that will maximize your efficiency and profit." – View Melissa's profile page
Jasmine Star
Dear Me, Please Stop Making the Same Mistakes. Love, The Future Me – Tuesday, March 12, 2013, 4pm
"Jasmine Star is an international wedding photographer located in sunny, southern California. Sure, seven years into her business she's been garnered awards for her work and travels the world to document love, but starting her business was hard work. It was made especially hard because Jasmine made the same mistakes…again and again. It was until she stopped running a warp speed and took the time to understand how to strengthen weak points in her business that she flourished as an entrepreneur and photographer. Join Jasmine at WPPI as she talks openly about her mistakes so you can avoid them and shorten your business learning curve." – View Jasmine's profile page
Ben Chrisman
Starting Small, Going Big – Wednesday, Mar 13, 2013, 3-4:30pm
"We all begin at the same level, just wanting to express with a camera how we see the world. But what we all aspire to do, and yet what is so elusive, is how to repeatedly get to the next level of our craft creatively. It takes more than just a desire. It takes education. It takes time. It takes a fundamental mindset on how to approach people and deal with situa- tions that we can't control. But these are the things that make being a photographer such a challenging and exciting life. There are certain basic methods that we can all rely on to lead us to the next image. And learn- ing how to use those, even when they might not seem obvious, is what can consistently elevate our photography. We will share how we start small at each wedding, but always with the goal of ending very big by giving our clients the photos they have always wanted, and photos they never even thought possible." – View Ben's profile page
Other BOWP speakers include: