Santa Irini Chapel – The most beautiful elopement venue in Santorini
What are the essential ingredients of a perfect elopement? That's easy: you, your sweetheart, lots of vibes of love in the air, and an idyllic place of your choice. Oh, and your wedding photographer, who will witness this intimate celebration of love and narrate your unique story through pictures capturing the feeling and atmosphere of your big day forever!
Luke and Kelsie were aware of the importance of the place they would choose for their elopement. And they chose well. The volcanic island of Santorini (named after a chapel of Santa Irini at the time of the Crusades) is one of the most romantic places, and therefore one of the most popular wedding destinations, in the world. The combination of striking blue and luminous white in an extraordinary natural setting of rare beauty provides the ideal backdrop for any elopement.
And they couldn't have found a more ideal venue than Santa Irini (Saint Irene), a charming little chapel overlooking the infinite blue of the Aegean Sea and the caldera, just a few minutes away from the traditional settlement of Fira (an alternative pronunciation of the ancient name Thira), the capital of the world famous Greek island.
The story of Kelsie and Luke, both from Knoxville, Tennessee, started to unfold in 2008 as a friendship, which blossomed into true love in 2014 and, after an unforgettable romantic proposal, brought them to Santorini, the brightest jewel of the Cyclades.
During their preparation, the bride and groom found time to write letters to each other, which they exchanged and read after the first look. The intimate and serene ceremony at a terrace with breathtaking, panoramic views was exactly what this sweet couple had dreamed of: simple but beautiful. And a mere look at them would be enough for anyone to see how deeply in love and perfectly matched they were. That's why my camera lens fell in love with them!
The floral decoration and overall wedding planning by Tie The Knot in Santorini were impeccable. Kelsie and Luke exchanged vows, cut their wedding cake, and danced for the first time as a married couple on the private terrace against the background of a stunning seascape. And a sudden shower didn't spoil their mood at all; after all, in most cultures, rain on your wedding day is believed to be a sign of good luck!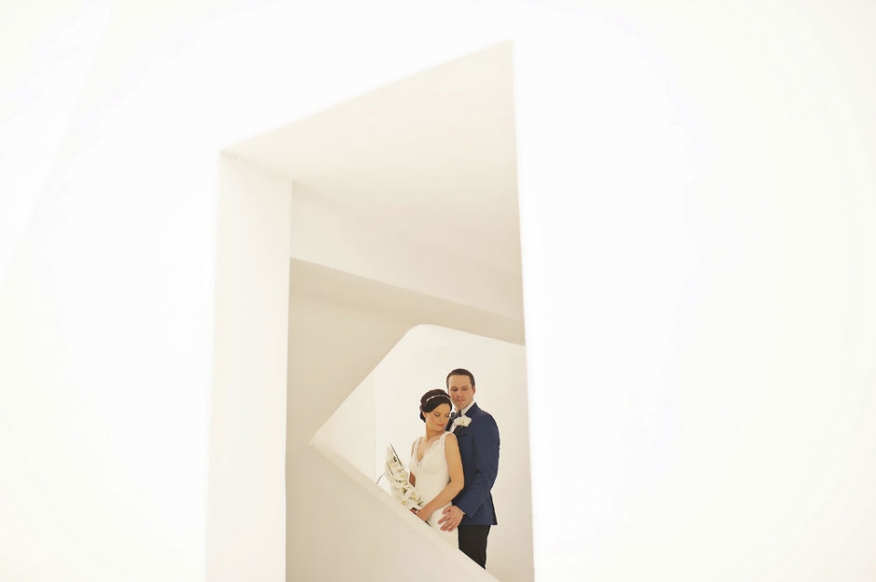 Photography by Thanasis Kaiafas