Who says impulsive decisions can't be great? Here is a beautiful story to prove that this isn't necessarily true.
Valerie and Chad are one of the loveliest couples I have come across in my career as a destination wedding photographer. They are young and sweet and so much in love! When they left the Windy City to go on a romantic cruise that would eventually take them to the Greek islands, little did they know that they would return to the States married! But this is exactly what happened. Because the moment they saw before them the breathtaking scenery of Santorini, with the whitewashed Cycladic villages perched on the imposing volcanic cliffs against the backdrop of the merging colors of the Greek sky and the Aegean Sea, they instantly fell in love with the island. And they decided that this was the ideal place to elope!
There is undoubtedly something irresistibly exciting and adventurous about an elopement wedding; and it takes heart and courage to defy convention, abandon customs and forget that the rest of the world exists to pledge your love and devotion to your soul mate in an intimate ceremony at an idyllic place of your choice. No guests, no crazy parties or carefully preplanned group events and activities, no time-consuming preparations and, what is more, zero stress! That's why more and more couples consider this the best way to tie the knot. The next big decision is the choice of the ideal place. And I believe Santorini qualifies as one of the best wedding destinations not only in Greece but worldwide too. It's the stuff dreams are made of. And Valerie and Chad were determined to have a dream wedding.
Apart from determination, however, spur-of-the-moment weddings require the fastest possible coordination of all sorts of minor details: venue choice, bride and groom attire, make-up, hairstylist, ordering a wedding cake, finding the photographer who will capture these unique moments forever. But where there is a will, there is a way; and eventually, all practical details were taken care of. The wedding preparations were made in record time, and the wonderfully simple private ceremony took place outside the little chapel of St. Irene, under glorious sunshine, with the infinite blue sea as a background and a symbol of unending love.
The newly-weds, absolutely free from stress and distractions, were able to enjoy every moment, and the absence of haste and pressure guaranteed a smooth and relaxed shooting that was more fun than work. Their happiness and tranquillity are reflected in the photos, most of which were taken in the winding cobbled streets, among the dazzling white traditional houses, since Valerie, as a designer, was particularly interested in Cycladic architecture.
All in all, it was a wonderful, unforgettable wedding, and I feel fortunate and honored to have been there to immortalize the memories of Valerie and Chad's big day.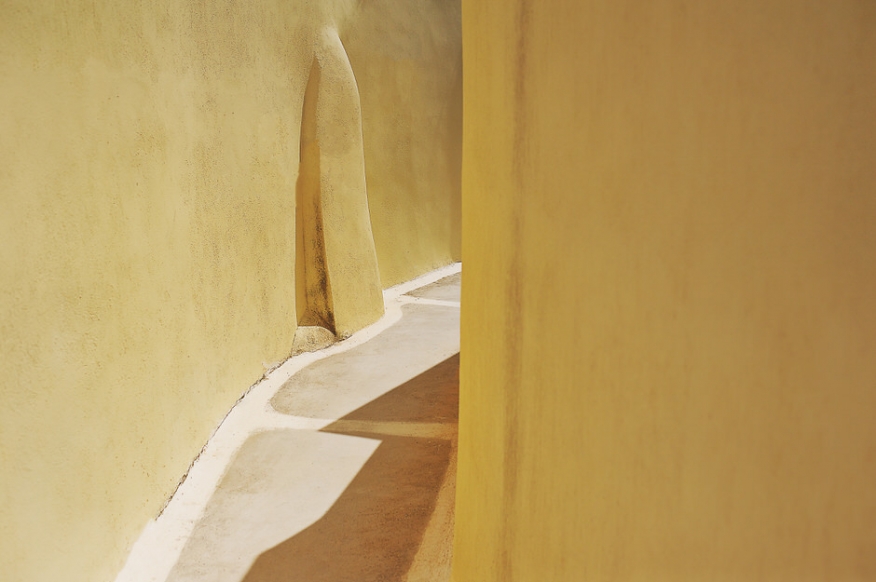 Photography by Thanasis Kaiafas