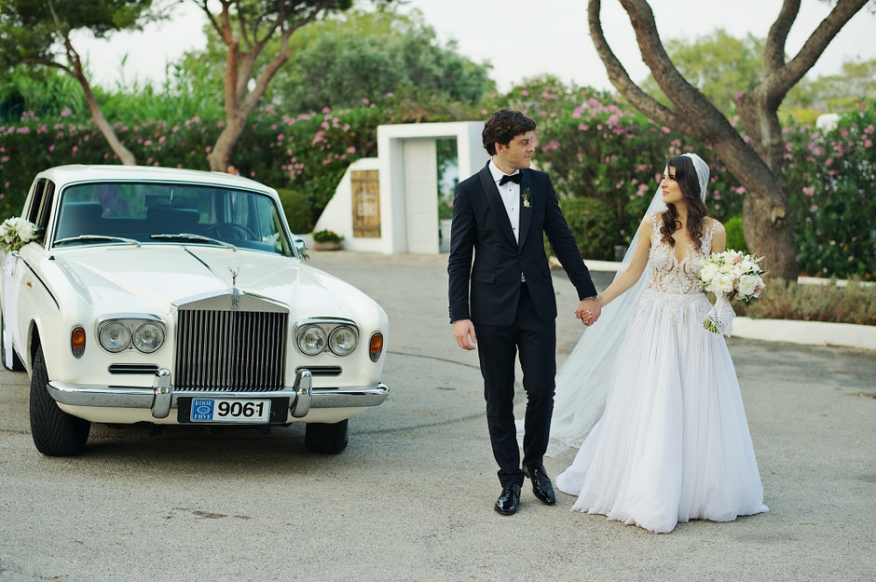 It is true that the wedding destinations chosen most often by couples wishing to realize their dream of getting married in Greece, the land of ancient myths and legends, are the Aegean islands and certain mainland coastal resorts. But Athens, the oldest continuously inhabited European city, famous not only for its rich history and great monuments but also for its vibrant nightlife, does have its charm. This is one of the reasons Nayia and Nick chose to have their dream wedding in the Greek capital.
The preparation of the bride took place in the luxurious environment of King George Hotel, a historic landmark in the center of the city that never sleeps at night. Nayia and her six bridesmaids, who were photographed first in flower-patterned robes and then in their cute bridesmaid dresses, drank champagne, exchanged jokes and turned a traditional process into an experience to remember. And the bride was simply stunning in her splendid wedding dress and her gorgeous Louboutin bridal shoes. The groom, who got ready in a classy downtown flat, and his groom mates had an equally good time. They were all very handsome in their tuxedos and the groom's presents: cufflinks with the face of Alexander the Great and socks with the UK national colors.
The wedding was held at the imposing church of Agios Dionysios Areopagitis, in Kolonaki, a trendy upmarket district of Athens. The bride was chauffeured to the church in a stylish white Rolls Royce, while a limousine had been hired for the bridal party. Nayia's sister welcomed her at the stairs with a sign reading "Here comes the bride." A Byzantine choir sang during the ceremony, creating a wonderfully peaceful atmosphere, and when the newlyweds made their exit, they were showered with rice, according to the old custom symbolizing prosperity, fertility, and good luck.
The venue chosen for the wedding reception was Island Private House, a chic seaside event complex half an hour from the city. The beautiful decoration was set off nicely against the slightly overcast sky. Nayia and Nick's wedding vision was planned, coordinated and executed by the Event Company and videography by George Zorbas, while their elegant wedding invitations were created by Atelier Invitations.
Dear Nayia & Nick, thank you for trusting me to capture the most memorable moments of your big day. I wish you endless happiness and a wonderful life together!
Photography by Thanasis kaiafas