The Lens & Light Honor is awarded to twelve photographers each year who are true leaders in the world of wedding photography. We look for photographers who produce stunning, modern, artistic imagery at the frontier of the field and for photographers who have achieved a rare level of success and recognition among brides, fellow photographers, and others in the wedding industry. We are proud to recognize Jerry Ghionis with the Lens & Light Honor.
"One of the Top 5 Wedding Photographers in the World"
~WPPI
"Icon of Imaging 2009"
~Microsoft
"One of the 10 Best Wedding Photographers in the World in 2007"
~American Photo Magazine
With more than 17 years of experience, Master Photographer Jerry Ghionis has accrued countless awards and accolades from clients, peers and leading industry associations. His bold, beautiful images and creative approach keep Jerry consistently ranking as one of the top wedding photographers in the world.
Based in Melbourne Australia, Jerry is widely known for his powerful imagery and his ability to turn any setting into an incredible backdrop. Inspired by art, glamour and fashion, Jerry's work reflects his passion for capturing the magic and story of each moment.
Dedicated to giving back, Jerry is actively engaged in the industry. Through public speaking, workshops and his online educational website, The ICE Society, Jerry helps to push the boundaries of wedding photography.
How did you get into wedding photography?

I've been shooting as a professional photographer for 16 years, and I started specializing in weddings right away. Like all young guys I wanted to photograph weddings because I thought it would be a great way to photograph beautiful girls and also because I thought it would allow me to make money quickly from the business. So I approached a very prominent studio at the time and assisted them for a year and a half with no pay – carrying bags until they finally hired me full time as a professional photographer. 

How would you describe your style?
My style is very glamorous and natural at the same time. My images tend to have the finesse of a pose with the natural feel of a candid image. I place a big emphasis on the story telling aspect of the day, as well as shooting with empathy for more striking and powerful images. But in addition to that, I also make sure that I never leave a wedding without creating several "wow" shots.

Can you share some of your favorite images and tell us what went into making them and why you like them?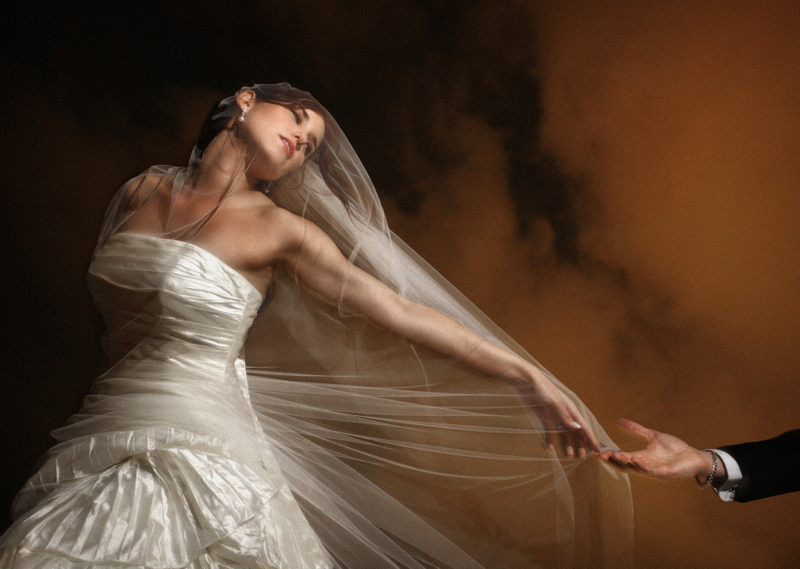 For this first image, I photographed a couple on a windy beach in Miami very late at night. It was a very magical night and I allowed myself to feel the moment. The wind caught the bride's veil and it gave me the idea for another image paying homage to Michelangelo's Creating of Adam painting that appears in the Sistine Chapel. The sky was completely dark but I exposed for it first. I then turned my white balance to shade to amplify any tones that were in the sky – even if I couldn't see it with my naked eye. I then used off-camera flash to illuminate my bride. Because it was so dark, I needed a flashlight to focus on her first.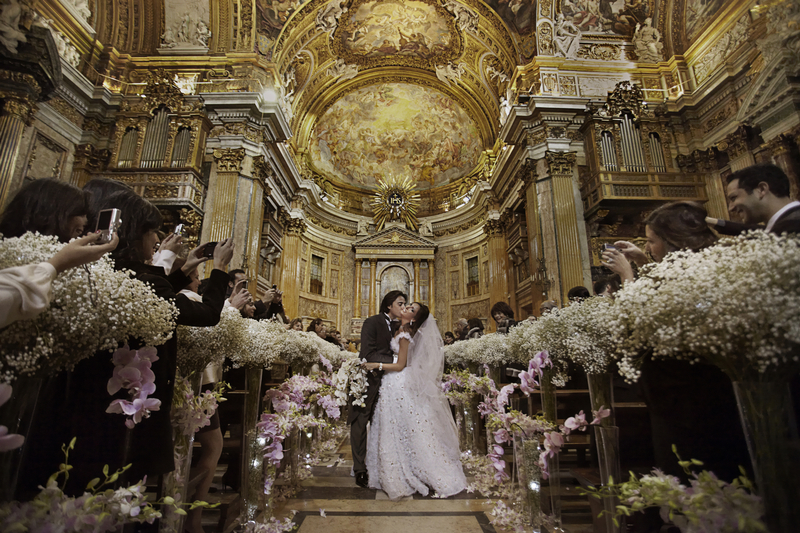 This next image is of a wedding I photographed in Rome, Italy. It is the only time that I have walked into a church and felt overcome by the sheer beauty of everything around me. It was one of the most beautiful and theatrical sights I have ever seen. As the bride and groom were walking back up the aisle after the wedding, I stopped them and posed them in a way to show off the grandeur of everything around them.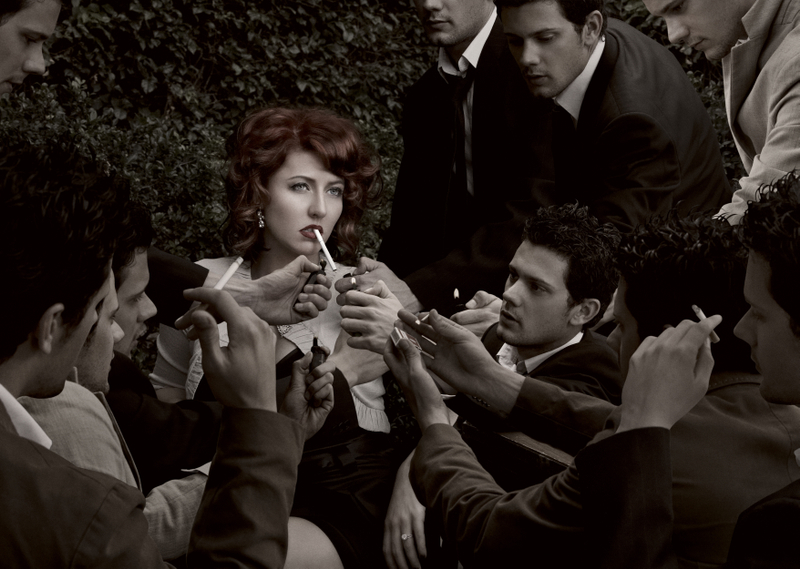 For this image, I did an engagement session recently where all of the images were inspired from different movies I had seen. The inspiration for this particular image came from the movie Malena. There is a scene in the movie where the main character sits in chair in a courtyard, puts a cigarette to her lips and all of the men immediately rush to be the first to light her cigarette. Since I didn't have ten different men to use in my image, placed my bride in a chair and set my camera onto a tripod. I made sure my focus point was on the tip of the cigarette. I then took my bride out of the scene and took several images of my groom in different positions. Then I combined the images later in Photoshop to create a unique composite image.

This was one of the last images I took on the wedding day. It was pouring rain outside, but I convinced my couple that if they went outside for one last image it would be worth it. I had my assistant stand behind them with an off camera flash as the only light source and it created a beautiful effect in camera.
What cameras do you shoot with, what's your favorite lens, and what's your favorite accessory other than your cameras/lenses?
I use a Canon 5D Mark II and Phase I camera system with a P40+ back. The lens I tend to use the most during a wedding day is the 700-200mm f/2.8 L IS. But aside from a camera or a lens, my favourite accessory would have to be jewellery and sunglasses.
How important is post processing in your final images?
I am a strong believer in in-camera artistry although certainly believe in finessing an image in Photoshop to bring out the best in it. The advice that I give my digital artist when retouching an album is that I'm looking for "invisible Photoshop". That basically means that most of my images will be colour corrected and will have some retouching but not much more than that. I feel that there is a new generation of photographers where many of them have become lazy shooters and then overzealously Photoshop their images.
Who or what inspires you to create great imagery?
One of my favourite mantras is, "You don't have to be the best. You just have to be better than last week." And I truly believe this. I'm always trying to beat last week's effort. If we're talking about general inspiration, then fashion, music and cinema are my three favourite sources of inspiration.
What is the most challenging thing about photographing weddings?
It's the ability to work under pressure, think quickly, and create the best out of any situation. Bringing the best out of any situation is one thing that I really pay attention to every week when I'm presented with less than desirable locations. A photographer's communication skills are their most valuable asset. The ability to read people and the situation will allow them to be able to bring the best out of their subjects.


What do you think are the most important trends in wedding photography today?
Let me answer this question by saying what I believe are the most unimportant trends in photography. I was recently surfing random photographers' websites and a common trend that I saw was that many of them were focused on showing images of decorative details at the expense of exploring emotion, relationships, storytelling and glamour. Very few of the new generation truly understand lighting and posing and unfortunately many images that I see look like glorified snapshots.

If not a photographer, what would you want to be?
I don't think it's any secret that I want to be a singer in my alternate life. At the age of 15 I had decided that I wanted to be either a singer or a photographer. I decided back then that a photography career was probably the more viable option so now I just sing whenever I can!