The Lens & Light Honor is awarded to twelve photographers each year who are true leaders in the world of wedding photography. We look for photographers who produce stunning, modern, artistic imagery at the frontier of the field, and for photographers who have achieved a rare level of success and recognition among brides, fellow photographers, and others in the wedding industry. We are proud to recognize Italian photographer Carlo Carletti with the Lens & Light Honor.
~

~
PHOTOGRAPHER OF THE YEAR (TWICE, IN 2006 AND 2009)
~ The Wedding Photojournalist Association (WPJA)
When you study his images, you instantly detect a strong sense of place and drama. Environment, texture, and ambience are all woven together in an evocative and intimate swirl.
~ Kodak Professional

~
Born in Tuscany, Carlo Carletti began his photographic career in 1987, working as a reportage photographer for magazines and newspapers. Drawn to the beauty and storytelling possibilities of couples in love, Carletti transitioned to the world of wedding photography in the 1990s. His experience as a photojournalist leaves an unmistakeable mark on his images, and he continues to draw inspiration from the world of reportage photography.
The result is a distinctive style that Kodak Professional calls "rich, vivid, and extremely dramatic." The WPJA (Wedding Photojournalist Association) says that Carletti's "photojournalist sensibility … energizes his award-winning images with wit, style and drama."
The rest of the wedding photography industry has taken notice. Carletti is currently the only photographer in the world to win the Wedding Photojournalist Association's prestigious PHOTOGRAPHER OF THE YEAR award twice, taking the prize in 2006 and again in 2009. Carletti has published four photography books, and his work has been featured in a number of major photography magazines.
Based in Tuscany, Italy, Carletti calls Venice is favorite location. But he now travels throughout Europe and the United States to work with couples craving his distinctive style.
How did you get into wedding photography?
I got into wedding photography almost by chance. I started as a reportage photographer in 1987, shooting for magazines and newspapers in Tuscany. Realizing that what I loved about photojournalism quite naturally translated to wedding photography, I began shooting the weddings of family members and friends.
How would you describe your style?
Direct and spontaneous, always set into the contest. I want each couple to find a sense of themselves in relation to the space around them. This provides narration for the story.
Moreover by photographing weddings of people coming from different cultures I have the chance to give an anthropological slant to the photographic narration of the wedding.
Can you share some of your favorite images and tell us what went into making them and why you like them?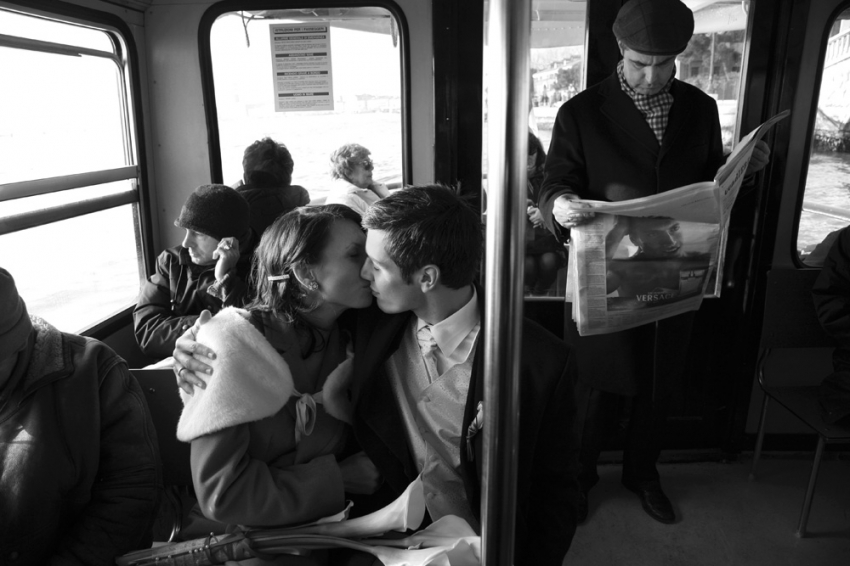 Venice, 2006. I like this shot because it is a real kiss that I caught when they thought I was no longer shooting. It is also a tribute to a famous photo by Gianni Berengo Gardin (Venezia, il vaporetto 1960).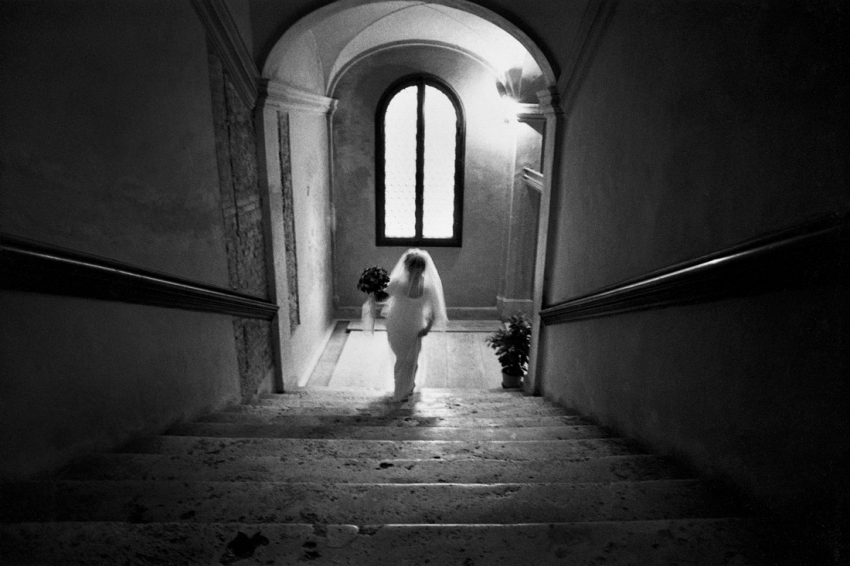 Siene Town Hall, 2005. I believe this is an excellent natural backlight sample. Morever, the quality of the film gave me the ability to capture the great texture on the shadows of the walls.

Wedding in Florence. I love the extraordinary light shining through the veil. The bridesmaid was covering the bride from the view of the groom before the wedding ceremony.


Little Bridesmaids. The two little bridesmaids were preparing and they were worried about how they looked. I was very close to them, but they did not feel my presence. I shot a lot of photos and this is the best one, thanks to the light and the position of the the little girl's arms.

Great light from the big windows as the couple was waiting for their ceremony.
What cameras do you shoot with, what's your favorite lens, and what's your favorite accessory other than your cameras/lenses?
I use both Canon 5D Mark II and Nikon D3 cameras. My favourite lenses are 24-120 for Nikon and with 24-105 for Canon.
How important is post processing in your final images?
Coming from the dark room I try to remain as faithful as possible to the original shot. Post production to me serves only for the quality optimisation of the final print.
Who or what inspires you to create great imagery?
I've always been inspired by Gianni Berengo Gardin, the greatest reportage photographer in Italy. I try to apply his reportage vision to the world of wedding photography.
What is the most challenging thing about photographing weddings?
That all that is beautiful is true and all that is true is beautiful. As in the movie 'Il Gattopardo' by Luchino Visconti where truth corresponds to beauty.
If not a photographer, what would you want to be?
A poet.