More than anything else, a wedding should be a celebration of true love between two people eager to join their lives and declare their commitment to each other. Holly and Jeremy's wedding was precisely that. And they chose the perfect place for it: Santorini, one of the most enchanting and romantic islands in the world.
Holly and Jeremy are indeed one of my favorite couples. They were so friendly, warm and honest that from the very first moment I felt that I had known them for years! About two years ago they visited the volcanic island of Santorini and instantly fell in love with its timeless, out-of-this-world beauty and magic. So, they traveled all the way from California to tie the knot here, in sunny Greece.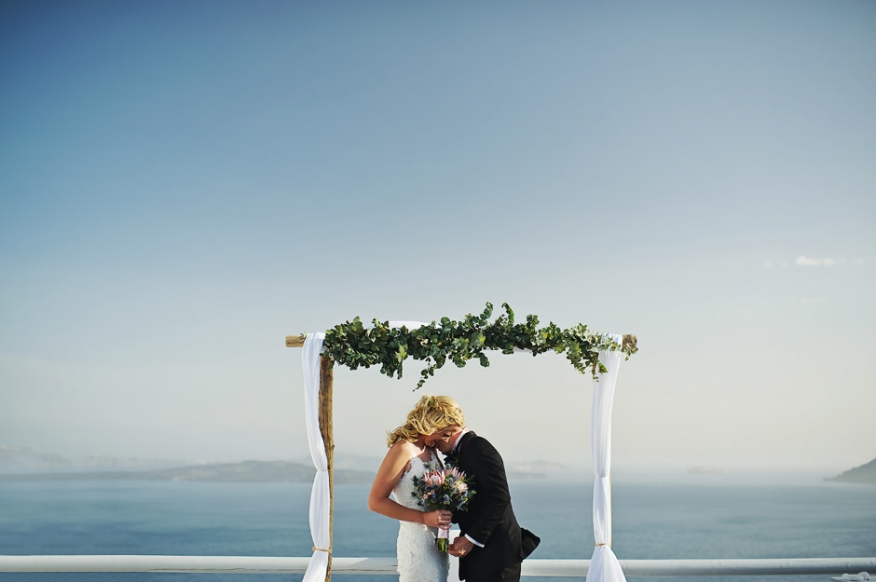 The first look took place on a balcony overlooking the sparkling Aegean blue, and the ceremony was held on a spacious terrace with unobstructed views, under a beautiful arch decorated with green branches. It was a very touching scene when the couple read their vows. Everybody was moved. Emotion filled the air, and there were tears of joy and happy smiles. I must admit that I almost forgot the reason I was there and enjoyed every single minute, every single word! And I remembered once again what a great honor and privilege it is to capture such precious moments with your camera and record them forever.
Maria and the whole awesome team of Tie the Knot in Santorini had created a dream atmosphere for the ceremony with their simple but elegant decoration and floral arrangements, including the beautiful bridal bouquet plus the sweetest and quietest little donkey wearing the colors of the wedding!
The reception was held in Santorini Mou, an amazing local restaurant that the newlyweds –and all their guests– absolutely loved. Fantastic food, fiesta lights and live Greek music played by the owner himself –with no microphones but with lots of enthusiasm– made the evening truly unforgettable.
Dear Holly and Jeremy, thank you for choosing me as your wedding photographer. I wish you all the happiness in the world and a wonderful life together!
Photography by Thanasis Kaiafas