It's hard –if not impossible– to visit Mykonos and not fall in love with it. And Kara and Anthony, a lovely, perfectly matched couple, were no exception to the rule! The legendary island of the winds, world famous both for its timeless Cycladic beauty and for its vibrant never-ending parties, has rightly won the title of one of the most popular holiday destinations in Greece; no wonder it eventually evolved into one of the most popular wedding destinations as well.
Rarely have I come across a more relaxed, easygoing couple – or a more determined one, as they had been carefully planning their dream wedding for almost a year to make sure it would be exactly that. And it was. Because, you know what they say, when you want something, the whole universe conspires in helping you to achieve it, as Paulo Coelho would assure you…So, Kara and Anthony's wedding had it all: beauty and love, amazing friends and relatives eager to share their happiness, a breathtakingly beautiful landscape and, of course, glorious sunny weather!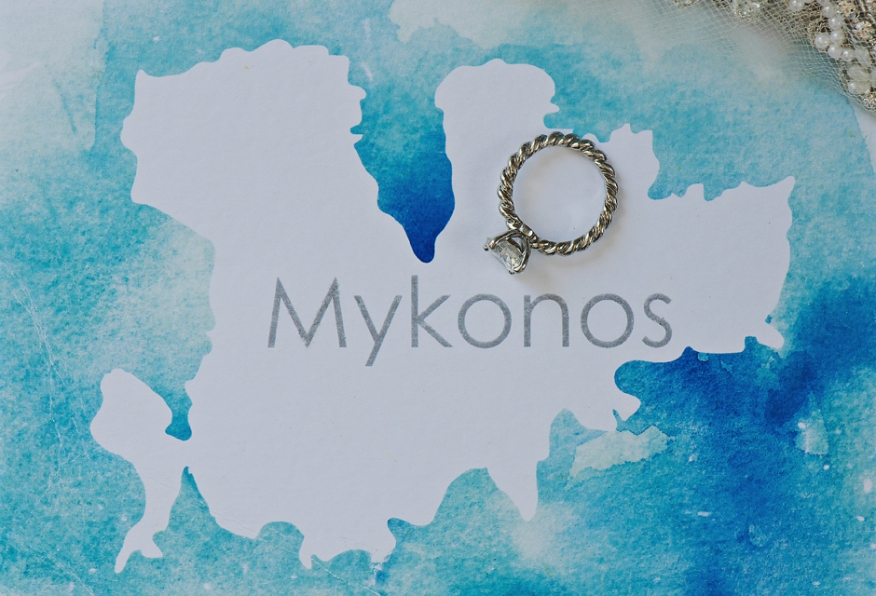 The pre-wedding party included a sailing trip around the island, with lots of fun, dancing, and spectacular jumping into the crystal blue waters, and dinner at one of the best restaurants in Mykonos, Avli tou Thodori, which specializes in high quality traditional Greek cuisine. There was a nice breezy atmosphere at the preparation of the beautiful blonde bride, who was stunning in her exquisite lace wedding dress, while the bridesmaids looked very chic in their elegant blue dresses. The ceremony took place literally by the sea in Pasaji, where Caterina Vogli and her talented Mood Effects team had decorated the Jewish wedding canopy with fresh white, pink and pale yellow flowers. This was my first Jewish wedding, and I was impressed by the meaningful rituals and age-old customs such as the breaking of the glass and the chair dance at the reception. The day culminated in the wedding party, where an awesome saxophonist, a great singer and a fantastic DJ had the guests dancing all night long. The wedding celebrations went on the following day with another party at the beach restaurant Kuzina, which offers an eclectic menu inspired both by European and Eastern tastes.
The final chapter of this beautiful wedding story was written with the couple's photoshoot at the windmills, the trademark of Mykonos. Dear Kara and Anthony, thank you so much for your trust and friendship. May the sun of love always shine upon your life!
Photography by Thanasis Kaiafas