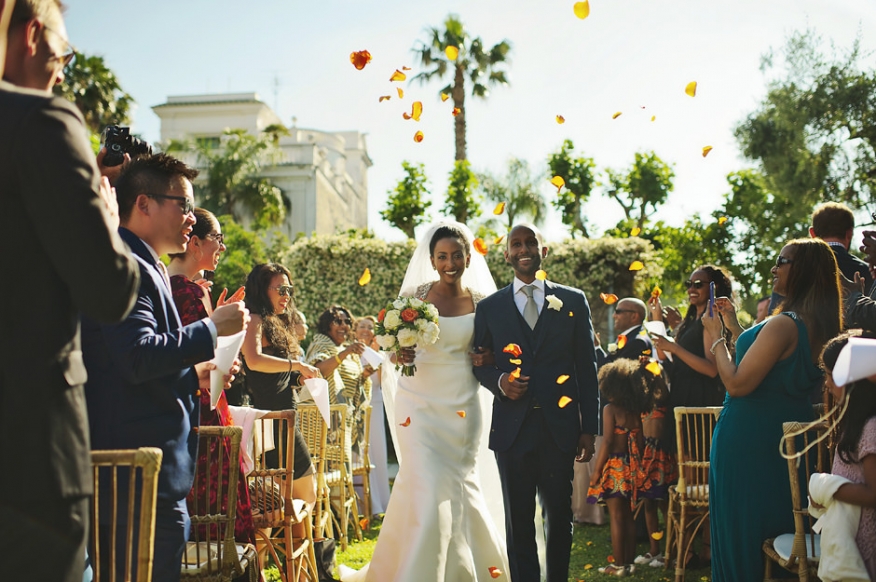 Some destinations are so breathtakingly beautiful that they hardly seem real, and Capri is definitely one of these magical places! This is why Alpha and Alpha (yes, that's right, the bride and the groom happened to have the same name!), a lovely young couple of Ethiopian origin who met and fell in love in New York, chose to get married on this small Italian island that is often referred to as "l' isola d' amore" ("the island of love").
The wedding story began with a fantastic sailing trip around the entire island and the Amalfi Coast that the lucky guests, who had come from the four corners of the world – Ethiopia, the United Kingdom, Asia and the United States –, enjoyed tremendously. It was a wonderful day in late May, the sun was shining sweetly on the crystal clear waters, and there was a light, refreshing breeze. Champagne, laughter and songs – and let's not forget the amazing traditional Ethiopian wedding ululation! – Turned the tour into an amazing experience for everybody. A delicious dinner awaited us later in the picturesque town of Capri, where we had mouth-watering Italian pizza and exquisite wine.
The wedding ceremony took place in the open air, in the lush gardens of a majestic private villa. Ethiopian women are renowned for their beauty, and the stunningly beautiful bride was the living proof!
It was a pleasure and a privilege for me to work with Erin Lindeman, a wedding planner of international fame, who took care of everything and had organized the whole event expertly and reliably down to the last detail. The reception was held in the romantic environment of the garden, where the tables were arranged in a long straight line under the palm trees, while the elegant flower arrangements and the candles created a dreamy atmosphere. The fantastic mozzarella snacks prepared by a chef on the spot during the cocktail party, the superb food, and the Ethiopian music and traditional dances made the whole evening a unique experience for all of us.
Dear Alpha & Alpha, thank you so much for your trust and also for the opportunity to discover and enjoy the fascinating traditions of Ethiopia. May your journey together in life be as happy and beautiful as your perfect wedding day!
Photography by Thanasis Kaiafas