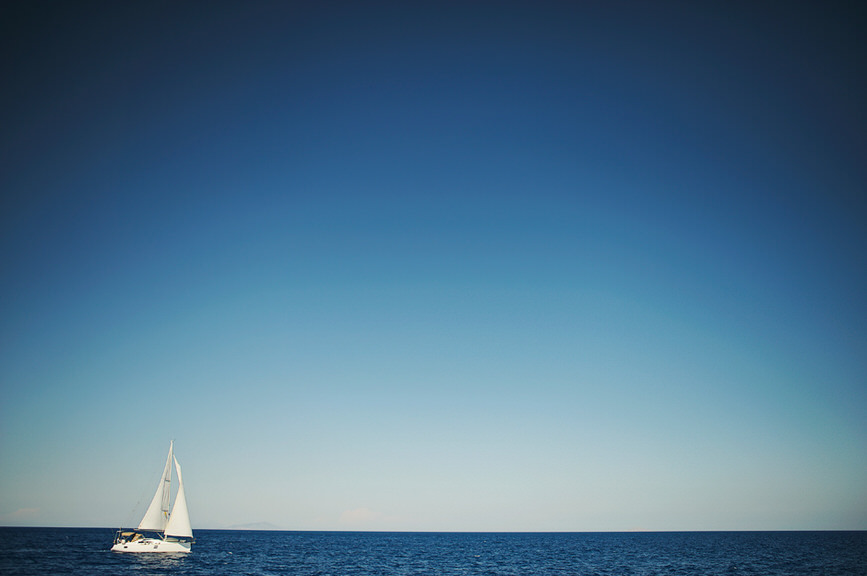 Every single wedding that I have attended as professional wedding photographer reminds me why I should be immensely thankful for my job; for nothing compares to the emotional fulfilment you experience when you witness the joy and happiness of people gathered to celebrate the big day of a couple in love, especially when you know that your pictures will contribute to keeping these unique moments alive forever.
Kirby and Tey decided to tie the knot in Ios. Ios is one of the most popular Cycladic islands, famous both for its golden beaches and for its intense nightlife that has earned it the title of the best party island in Greece, if not in the whole Mediterranean. For Kirby and Tey's guests partying started right from the very first day, during an awesome catamaran sailing trip, with lots of drinks, dance music and swimming in the crystal clear waters of the Aegean. The happy couple chose an original way to make promises of love and devotion to each other: they exchanged symbolical necklaces. It was one of the most beautiful and tender scenes I have ever seen.
The wedding was held in the Odysseas Elytis amphitheater, an ancient type open theater with great acoustics that the couple happens to have a very strong connection with. The ceremony harmoniously combined modern and traditional elements, the most striking of which were the exquisite lace wedding dress of the lovey bride and the traditional Ghana clothes of the groom's parents. The wedding celebrations culminated in the VIP party, where the lucky guests –mostly young people, friends of the newlyweds from all over the world– had a fabulous time.
Dear Kirby & Tey, thank you so much for your trust and friendship. From the bottom of my heart, I wish you a wonderful life together.
Photography by Thanasis kaiafas