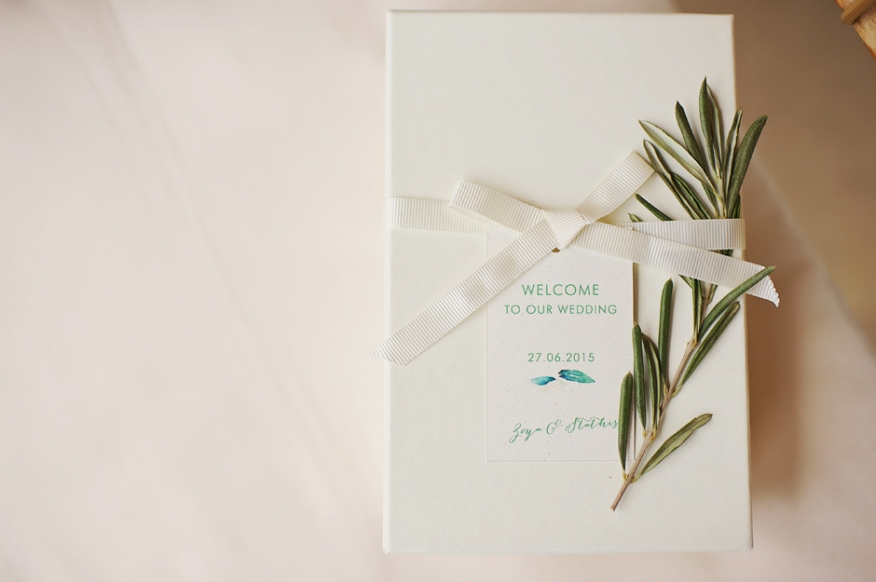 Every wedding, as a celebration of love that symbolizes a glorious new beginning, deserves to have a touch of fairytale. An enchanting venue, a dream wedding-gown, an atmosphere of magic… Not everybody opts for a destination wedding, but those who do, like Jennifer and Bryan, are ready to put in all the time and effort needed to create a one-in-a-lifetime experience both for themselves and for their guests. For if something is worth doing, it's worth doing well! The choice of the wedding venue couldn't have been better: Costa Navarino, a superb luxury resort nested in a stunning landscape of lavender fields, olive and citrus groves and two signature golf courses next to the Ionian Sea coastline, was the ideal setting for a perfectly organized wedding.
The three-day celebrations started at the restaurant Flame at the Dunes Course clubhouse, in the extensive area of the hotel's golf club. We all met there for a welcome drink and a friendly chat at the pre-wedding party, which began with live jazz music. A little later the music choices of the DJs set the place on fire, and the party took off like a rocket!
On the wedding day, the traditional preparations of the groom and the bride took place in the suites of Westin, where the atmosphere was relaxed and full of happy anticipation. The beautiful ceremony was held in the Church of Panagia Myrtidiotissa, Pylos, and the lovely sunshine matched the mood of everybody present. The bride looked like a nymph in her ethereal wedding dress, and the groom couldn't have looked happier.
The reception was held in Pero, at the Romanos, a wonderful restaurant that enjoys unobstructed views of the scenic landscape and the emerald Ionian Sea. In this classy, stylish setting, with fabulous jazz music filling the air, the guests enjoyed the best quality food the local cuisine had to offer. And everybody was moved by the speeches of the two fathers and the newlyweds themselves. Then photos were shot both in the hotel premises and in the broader golf area.
When the wedding dinner was over, the party kept rocking at the Anax Lounge, with rousing music and a wedding photo booth, to culminate with Greek songs played by a bouzouki band and the famous tradition of breaking plates and carnation blossom showers. It was a great party, but not the last one! The beach party at Barbouni Bar by the sea, with more music and dancing, delicious snacks and games on the sand, was equally unbelievable.
The sweet couple deserved nothing less than a perfect wedding. May all of their days together be as sunny and happy as their wedding day!
Photography by Thanasis Kaiafas