There were many reasons why I had been really looking forward to Alexis and Costas' wedding. First of all, they are one of the loveliest couples I have met in the course of my work: they are sweet, generous and simple and they literally radiate kindness and love. Second, they had invested so much time and effort in preparing the wedding of their dreams that there was no way anything could go wrong. (You know, "when you really want something, the whole universe conspires in helping you to achieve it"…)
And third, the place they had chosen to celebrate the beginning of their new life together was the island of my heart, Mykonos. I've said it many times, but I can't help saying it again: Mykonos, with its clear azure waters, its traditional white-washed little houses and windmills, and its unique crazy party atmosphere, is one of the best travel destinations worldwide and one of my favourite wedding destinations in Greece.
The happy couple travelled all the way from New York and their guests came from the four corners of the world. Everybody was determined to have a fabulous time; and we all did! It all started with a fantastic beach party in Platis Gialos, which was followed by the pre-wedding party at Belvedere Hotel and the epilogue was written with the wedding party at Alemagou.
The wedding day started ideally with a pool party. The groom had chosen a beautiful private villa in the area of Kanalia for his preparation –and his friends made sure it was as pleasant as possible– while the ritual of the bride's preparation took place at the impressive Mykonos Grand Hotel. There were smiling faces all around and the atmosphere was charged with excitement and emotion.
The wedding ceremony took place in a charming little Cycladic chapel, Agios Sostis, where Alexis and Costas joined their lives together, surrounded by loving friends and relatives. The day culminated in the wedding reception at Alemagou with lots of fun, music and dancing. The perfect ending to a perfect day!
Alexis & Costas, thank you for letting me share your big day with you. I wish you a life like a fairytale. And these photos will always remind you of the day when your "happily ever after" started…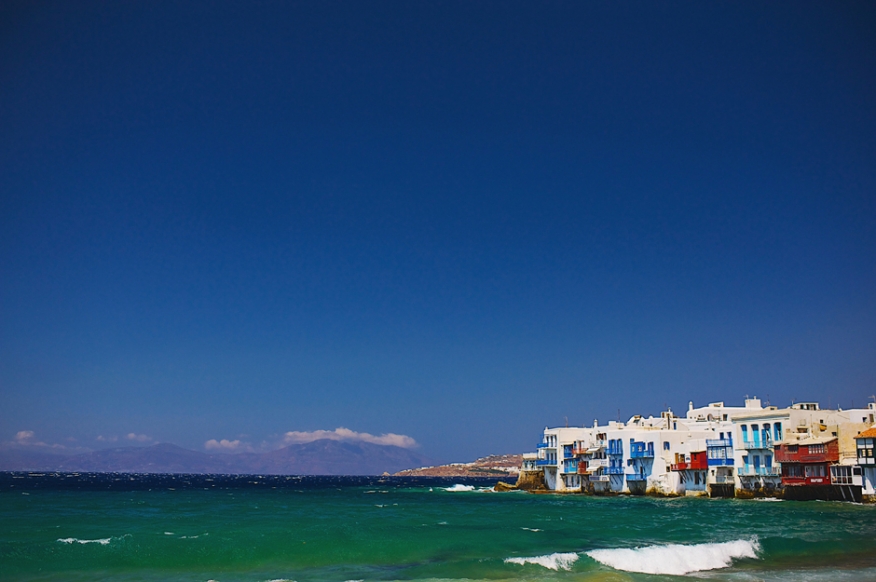 Photography by Thanasis Kaiafas