Mara and William traveled all the way from Washington D.C. to get married in Oia. The preparations of both the bride and the groom took place in a private Cycladic villa above the ruins of the Venetian castle. As I was climbing the path to the villa early in the morning of the wedding day, breathing the sweet fragrant air and drinking in the beauty and the colors of the amazing landscape, I fell in love with the place. And I couldn't help thinking that Mara and William couldn't have made a better choice.
The ceremony was held on a terrace with endless views of the Aegean blue. The bride looked divine in her exquisite low-back wedding dress and her elegant Badgley Mischka bridal shoes, and the groom was very handsome in his classic blue suit. They both radiated happiness, and the glorious weather seemed to symbolize the perfect beginning of their new life together.
The newlyweds drove to Le Ciel, a wedding and event venue with spectacular views, for the wedding reception in an old white automobile that added a classy touch to the romantic atmosphere of the wedding. And it is worth noting that they had also arranged to have a wine tasting experience, which I am sure they enjoyed tremendously, as Santorini happens to produce excellent wines that owe their special taste and aroma to the climate and volcanic soil of the island.
I would also like to mention that once again I had the fortune and pleasure to cooperate with the wedding planner Maria and her enthusiastic and talented team of Tie the Knot in Santorini, who deserve the credit for the wonderful decoration both in the villa and in the reception area.
Dear Mara & William, thank you for trusting me and letting me be a part of your special day as your wedding photographer. I wish you a lifetime of love and happiness together!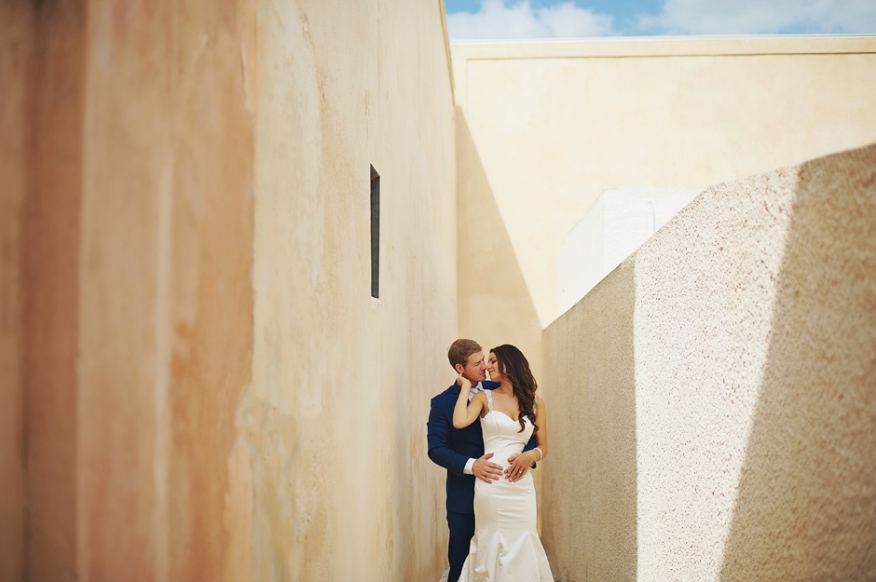 Photography by Thanasis Kaiafas