What is it that makes elopements so irresistibly fascinating? Maybe it is the fact that a couple is so deeply in love that they decide to avoid the stress and endless preparations of a traditional wedding and opt for an unconventional one that allows them to concentrate on each other and nobody else. That's reason enough for me to applaud such choices.
Bilal & Cydney chose to elope. And their barefoot elopement in stunningly beautiful Mykonos, the island of my heart, was the ideal way to pledge their love to each other and start their life together. Needless to say, such romantic stories are the most inspirational theme a wedding photographer can hope for! That's why I was really looking forward to this photoshoot –my second one in the "island of the winds" this year.
Bilal & η Cydney, one of the loveliest couples I have ever met, came all the way from New York to Mykonos to get married in a very moving and intimate ceremony on a tranquil solitary beach, under the bright Greek sun, against the spectacular backdrop of the azure Aegean Sea. The single table, set for two, that was waiting for them by the sea had been elegantly and imaginatively decorated by Vana Efkleidou from White Ribbon. The original element of the symbolical footbath and later the leisurely photoshoot before the trademark Mykonos windmills and in the tiny quarter of Little Venice completed ideally one of the most relaxed and charming weddings I have ever witnessed. Actually, the key words here are "leisurely" and "relaxed", for in elopements the photographer focuses exclusively on the happy couple and there is plenty of time for planning the best possible pictures, and also for lots of fun and pleasant interaction with the newlyweds.
Bilal & Cydney, I am sure that your barefoot elopement was only the beginning of the wonderful adventure of your life together. May your life be always full of such wonderful sunny days!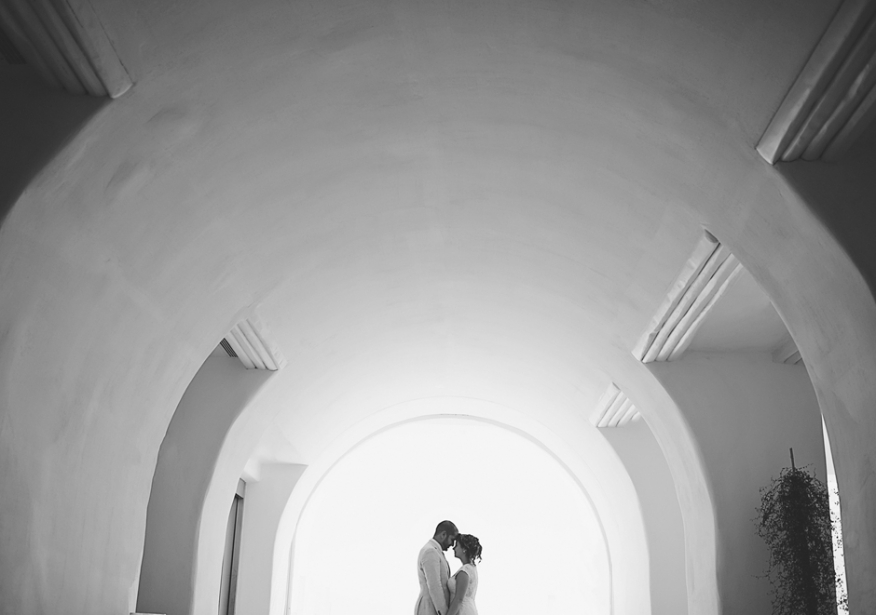 Photography by Thanasis Kaiafas