Jonathan and Keleen love adventures. To them, life itself is a beautiful adventure that you should share with your better half. And that's precisely how they feel about weddings too. That's why, during a romantic cruise in Europe that eventually brought them to the legendary Greek island of Mykonos, they decided to elope. And although the decision was taken on the spur of the moment, they couldn't have made a better choice. Mykonos, the crown jewel of the Cyclades, is famous not only for its golden sand beaches, charming traditional architecture, and fascinating mythology but also for its fabulous nightlife and glamorous parties. Keleen fell in love with the Mykonian windmills, the iconic landmark of the island, so a good part of the wedding photoshoot was done there. I hope the result was worthy of her expectations!
Jonathan and Keleen chose St. John Hotel for their intimate wedding ceremony. I had the chance to take some great photos of the groom during his pre-wedding preparation. Then it was Keleen's turn. She was so natural and relaxed during the bridal makeup and hair styling that she didn't have to pose at all for her awesome photo portraits.
The "first look" photos were taken inside St. John Hotel, on a magnificent white terrace with spectacular views over the beach of Agios Sostis and the infinite Aegean blue. And then it was time for some amazing photos in front of the emblematic monument of Panagia Paraportiani, a dazzling white complex of five little chapels built between the 15th and 17th centuries. Paraportiani, which is dedicated to the Virgin Mary, is very popular among couples from all over the world who come to tie the knot in Mykonos and one of the most photographed spots on the island. If you asked me what made Jonathan and Keleen's photos so vibrant, lively, and unique, I would say that it was their cheerful disposition and playful mood. They saw the photoshoot as a carefree game and played hide and seek in the labyrinth of the picturesque narrow alleys and whitewashed houses of Chora, enjoying every moment like two happy children without a care in the world.
The quiet private wedding ceremony took place inside the hotel, at the church of St. John, a cute white chapel. Love was palpable in the air, and one look at this beautiful couple would be enough for everyone to understand why they didn't need anyone else around them that day…
Jonathan and Keleen, thank you for choosing me as your wedding photographer and for your trust and all your positive energy. May your life be always as sunny and bright as that magical day in Mykonos!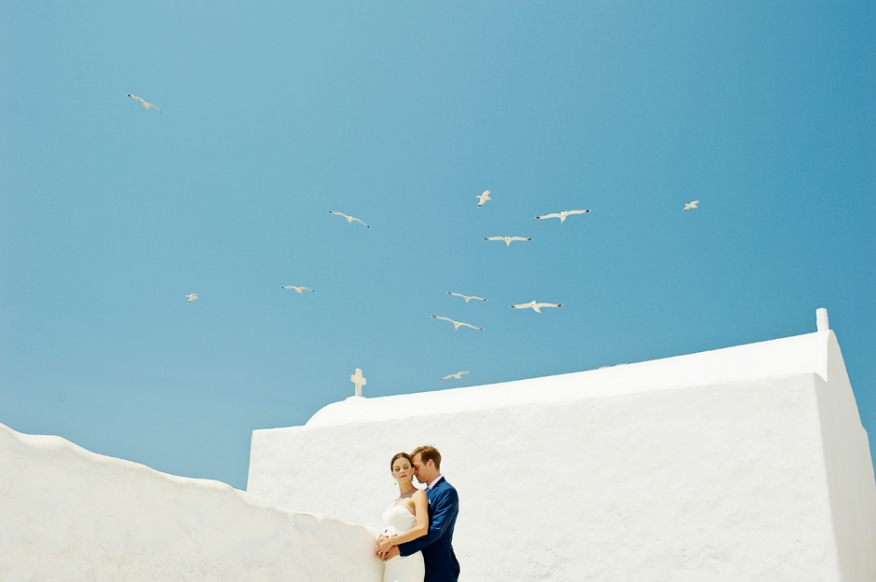 Photography by Thanasis Kaiafas