Last summer I had the great opportunity to shoot my first destination wedding in Portugal with Carolina & David, a cute half-French half-Portuguese couple. Since I wanted to make the most of it, we met in Porto the day before their wedding so we could shoot an engagement session in the Portuguese capital. Our story started right there, on Gondarém beach, a beautiful white sand beach just outside Porto.
That engagement session was a great opportunity to get familiar with each other and a chance for Carolina & David to get used to my camera. We took some really good shots in the beautiful city of Porto. Unfortunately, things didn't go as expected. David received a call from his best man who was supposed to land in the evening. He was stuck in France where air controllers had decided on a last minute strike! For David, this was devastating, and a great source of stress since most of his relatives was supposed to fly on that day to Portugal! In a way, he was lucky because the strike only affected the one airport his best man was flying from…
Getting ready in a typical Portuguese house
Carolina & David did not want to see each other before the ceremony at the church. So they got ready in separate houses located next to each other. David was helped by his mom, and I could tell she was very emotional about the wedding. At one point David took a letter out of an envelope and started reading it. The couple had this brilliant idea of exchanging letters on their wedding day, which they would read during the getting ready.
Carolina did read her letter too. But to do so, she sat by the window behind a curtain. In the old times, this is exactly the place where the bride would wait for her husband-to-be to come by the window and shout his love for her.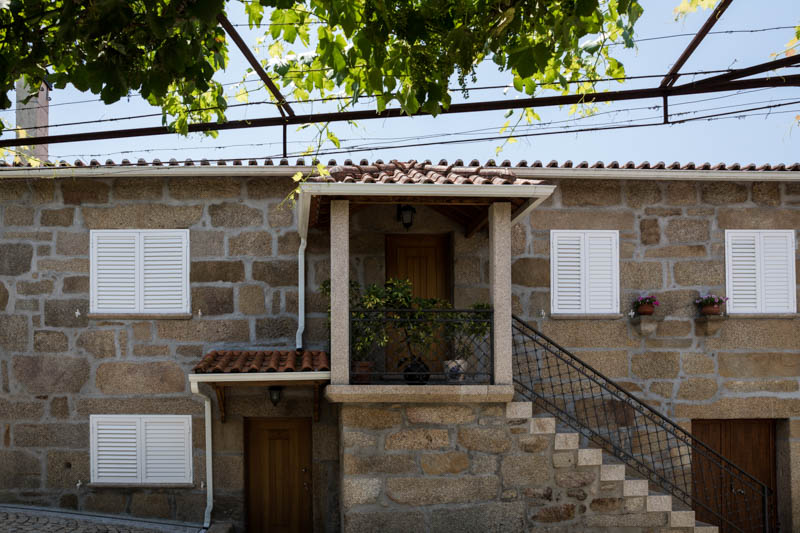 A wedding ceremony in Viseu, Portugal
The wedding ceremony took place in a magnificent church in the small town of Viseu. There was a lot of emotion going with speeches by the closest relatives, including David's grandfather, a 90-year-old man who had traveled all the way from France!
Next to the church there was this superb court with Roman arches. I thought I'd do the portraits there.
Wedding party inside an hacienda
The party took place in an ancient hacienda, renovated for weddings. I was so happy to shoot in such a beautiful location. There were some great candid shots to take there during the cocktail. Especially around the swimming pool when the sun was going down.
This was a fantastic experience for me, and I can't wait to shoot another wedding in Portugal!