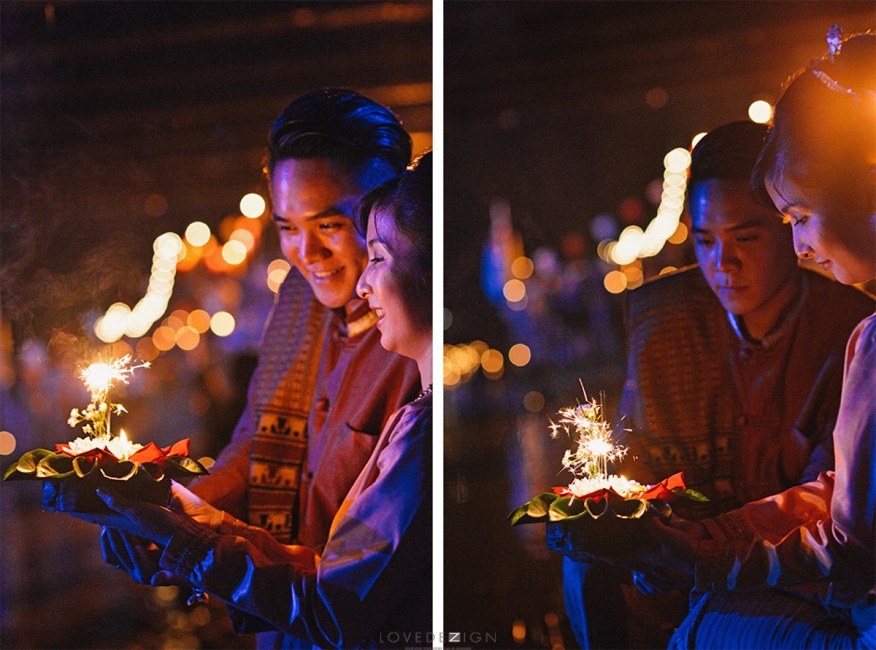 Chiangmai, Thailand Pre wedding photo Bride & Groom : Diana & Chan Venue : Mae Klang Luang rice terrace – Doi Inthanon, Mon Jam, Mon Mong, Mon Kan Ing Doi, Mae Rim, Tha Phae Gate, Naowaraj Bridge, Mahawan Temple   About 6 months ago, I was so impressed when I received an e-mail from Diana and Chan from Singapore asking me if I can take the pre wedding photo at Loy Kratong festival in Chiangmai. I've started to find all information for her such as the locations, accommodation, theme, props and transportation. In 2014, Loy Kratong festival will be held from 5th – 7th November. It would be a full moon night.
The traditional kratong are made from a slice of banana tree trunk and decorated with folded banana leave, flower, incense sticks and a candle. The small coins are sometimes put into the kratong as offering to the river spirit. On the full moon night, Thai people will float their kratong on the river, canal or a pond, making a wish as they do so. The festival may originate from an ancient ritual praying respect to the water spirits. Loy Kratong in Chiangmai is related to the Lanna (northern Thai) festival known as Yi Peng. The meaning of Yi is "two" and peng means a "full moon day". The sky lantern (khom loi) are launched into the sky where they will look like the jellyfish. The sky looks so amazing and grateful from a large number of khom loi. We spent a few day in Chiangmai starting from taking pre wedding photography at Mae Klang Luang rice terrace that is located in Doi Inthanon. I made a real flower wedding dress for Diana from a inspiration wedding photo in Bali.
It took almost 4 hours to finish it. Diana look so stunning in the golden rice field like a goddess. The sunset was so beautiful and made her look glorious amidst the natural's beauty. After that we went to Mon Mong – the mysterious resort that is located in the hills. The only way to get there is taking 4WD vehicle. We wake up in the morning and feel the fresh air that full of mist and fog. Today, I have made a flower crown for Diana. She looked like an angel. We leave Mon Mong to Mon Jam in the afternoon and had very delicious lunch in a restaurant at the top of the hill. The view is so stunning too. After taking some photographs at Mon Jam, we went to the flower garden in Mae Rim and Baan Mon Fai to change Diana from a vintage girl to Lanna lady. She was so gorgeous in every dress. That night, the tourists and pass by pedestrian wanted to take the photo of them. They looked like a movie star.
We spent the Loy Kratong Festival at Tha Phae Gate and floating kratong at Nawaraj bridge where the sky lanterns were floating here.
Love Leaw