On nearly a daily basis I receive emails from wedding photographers asking for help on attracting and converting visits to leads.
So that's why I decided to sit down and create a product that would help.  The Wedding Photographers Conversion Kit is just that.  The kit includes a variety of PSD templates which photographers can fill in with their photographs and vendor information.
The kit is then combined with an automated email delivery and search engine optimized landing page to attract and deliver the customized magazine to potential customers.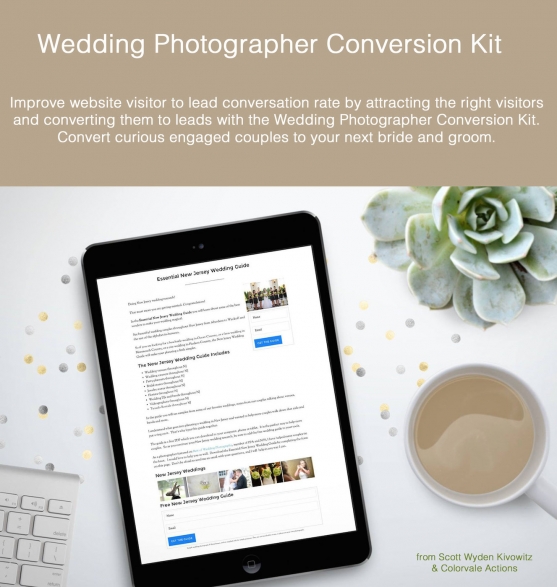 Here is what's included:
18 PSD files for Adobe Photoshop (PSD files are 8.5″ x 17″ and can be cut down to 8.5″ x 11″ individual pages.
Video tutorial on turning the templates into a magazine or individual pages.
Sample HTML landing page optimized for search engines.
Tutorial on customizing the landing page for your wedding business.
Video tutorial on how to set up a Mailchimp automated email with your new PDF.
Text content example for inspiration.
As you can see, a lot went into creating a package that wedding photographers can utilize.  So I encourage each photographer to pick up a copy and give it a shot.
Before I finish this up, I want to mention that creating a free download for website visitors is a proven method of converting visits to leads.  So offering content optimized specifically for your target market is the best thing you can do for your website, after your portfolio is optimized of course.  Check out the Wedding Photography Conversion Kit today.
Listen to an interview with Nigel at Zenologue about the kit as well.